Exterior House Washing Service in Katy Texas
Residential pressure washing in Katy, Richmond Fulshear
Our House power washing techniques actually kill the mold, mildew & Algae living on your property.
Why You Need Exterior House Washing In Katy Texas?
Time and weather are conspiring to wreak havoc on your windows, siding, roof, pool decks and driveway. Over time the luster on the siding, brick and stucco of your home will begin to fade and start to turn black, or green.
This ugly growth of mold, algae and mildew will eventually spread around the entire structure and will begin to damage the paint, rot the wood, and eat away at the mortar that is literally holding your home together.
It is caused by wet weather, humidity, tall trees, and a lack of sunlight. The northern facing parts of a building or home is usually where this issue begins. Because Texas is in the Northern Hemisphere – the northern facing side of the structure gets the least sunlight.
Clean Your Home Without Breaking the Bank
We hear customers consider repainting their entire homes in order to bring back that luster that they first fell in love with, and be amazed to see their houses sparkle like new when we are finished.
By removing harmful mold, algae, and mildew, our process can even extend the life of your siding, brick, and stucco. So there's no need to go throwing away money on expensive repairs or new paint.
Capable of Working on Any Surface
Your home is too special for "one size fits all" washing methods and we understand that. Our technicians use different techniques to wash any surface that you may need: power washing and soft washing.
Pressure washing uses a high pressure stream of water to blast away dirt and grim. This is best used on harder surfaces such as concrete, brick, and stone.
Soft washing uses a lower pressure system in order to not damage more delicate surfaces such as, siding, stucco, decking and roofs. Both techniques combine to ensure that your home doesn't only look new, it feels new!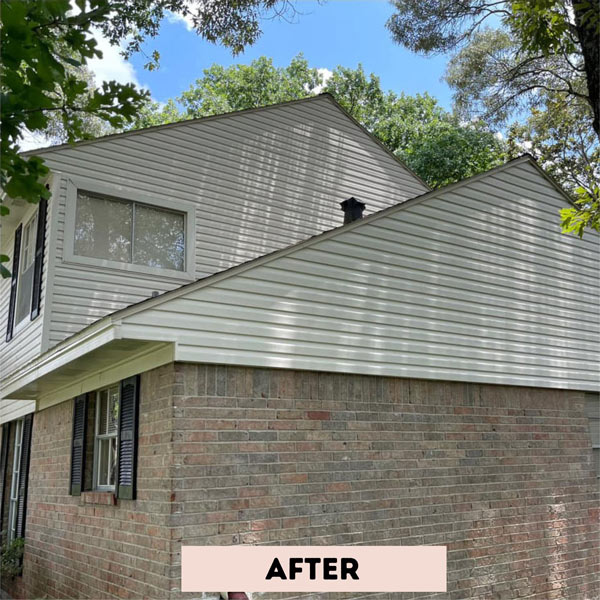 We Remove Harmful Growth
Our blend of detergents can make sure that mold, algae, and mildew are completely dead and gone once we're done. A high pressure water wash alone will not get the surface as clean and the results will not last as long.
Only our professional wash can offer longer lasting results against these unsightly growths because they will have to begin growing again from scratch. Otherwise, you may find the same problems rearing their ugly heads again in no time at all.
You don't want your home just kinda clean – right?
Don't Fall for the DIY Trap
Many of our customers in Cinco Ranch, Firethorn, Nottingham and West Memorial have their own power washer at home, but it is our thorough process that makes sure your house comes out clean and undamaged.
While it might be easy to wash a sidewalk or driveway if you have all day but the walls of a home can pose a number of obstacles that only a trained professional can properly address.
Online tutorials may claim to be able to teach you how to use your power washer, but having watched hundreds of them ourselves we can assure you they fall short.
This is the 3rd time we have used them on our commercial building and they never disappoint! Daniel and his crew did a great job once again
I highly recommend PWK. I needed my entire house pressure washed in preparation for exterior painting. They did a great job cleaning the whole house, including walls, gutters, soffit, garage door, window frames, and porch – any area that had been painted previously. They even used a solution to hand spray brick areas to remove any mildew/mold. The price was excellent too.
Great service and quality work. Our pool deck really needed to be cleaned after a summer of frequent use and they did a fantastic job. I was impressed with the whole process from estimate to completion. Adding them to my regular cleaning!
Professional Care for Your Home
Your home deserves to be properly cared for and our team of experts can make sure to do just that. Our team is made up of friendly, professional technicians with experience working on all types of surfaces.
So don't risk the safety of your home by waiting another day. Call the pros instead.
Request an Quote
Simply fill out the form here on the website and get your quote in less than 24 hours in most cases.
We will email you
After receiving your request for a quote we will view your home online and then email you a quote!
Schedule Your Wash
We will offer a price and day for your project that works for you….you don't even have to be home. It's really that simple!